Well, that went well!
After an epic few weeks back in January, it all went a bit erm pete tong in February with only the odd good day popping up so as we approached the annual Frozen Jam weekend here in Porthcawl it didn't look that promising, in fact it looked positively sh*t!
However as the weekend got closer there was a glimmer of hope with a chance of a breeze and sunshine on Sunday at least.
Several people contacted us to cancel they're trip and it started to get a little gloomy, however on Saturday we arrived at Rest Bay Porthcawl to find a great group of keen and hardy reps from kite brands around the UK who'd made the effort to attend. Soon there were loads of both local(ish) kiters but also plenty who'd made big treks to attend!
The day was spent catching up with friends and checking over all the lovely "kiteporn" on offer form the likes of ..........
Star Kites, Blade Kites, Epic Kites, JN Kites, Flexifoil, Axis Boards and Blankforce Boards
There was a huge BBQ running all day with the usual assortment of burgers, sausages and of course a few Tesco's special offers of horse meat.
After we'd packed up the huge amount of 30 plus kites on show we headed back to Blast HQ for a cuppa or two from where we walked the short distance to the Esplanade in Porthcawl for a meal and a few bevies ...a few to many for some!
There were over two dozen out that eve but only a few stupid/drunk enough to carry on to Streets Night Club....if you've seen "The Valleys" you'll have a good idea!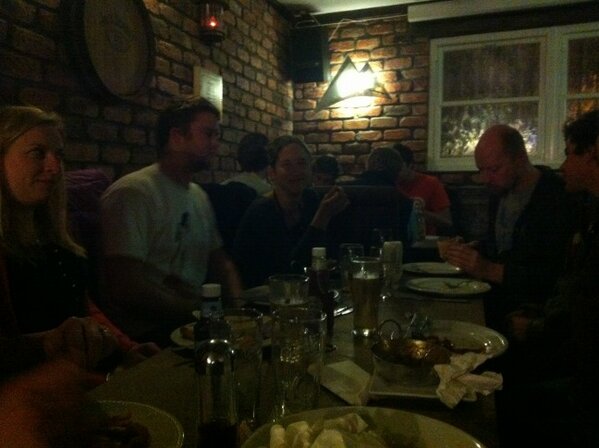 So, Saturday we met all bushy tailed, well most of us, at Coney Beach this time..and it looked promising The winds were cross off at first but as the tide dropped back it started to improve and also increase considerably.
Most people were on 9-12m's, I reckon I would have been better on a 7m personally ;-)
Photo by local photog: Kevin Thomas
I even managed a good while on the water too!
Once we'd all filled our boots (some took a lot of filling as many hadn't been in for as long as 5 months) we warmed up in the Hi Tide bar right on the beach.
This gave us a chance to thank everyone for making the effort to come in person but also to dish out a few little prizes for some random stuff like.........
Youngest Rider...Owen - progression DVD and 1-2-1 tuition with Blast Kiteboarding
Most rescued...Andy from Coventry... fortunately his board not so much him! - T.Shirt..windsurfing is a bit shit!
Best waveriding...Neil - Epic T'Shirt
Most hardcore - Gareth - Blade Flask
Biggest wipeout Tom busted ribs and a trip to A&E but all fine, set of "L" plates
Oldest kiter, our very own Terry just pipping Harry 70 somin' plus!! - Mystic Poncho
Biggest boosting..Martyn - (he was on an Epic Screamer though) ;-) - Epic Cap
Longest on the water Steve P - Epic T'shirt
Shortest Time on the water Abi - Blade Pump
Furthest upwind Dave - T.Shirt..windsurfing is a bit shit!
Oldest retro kite - Ade - Blade T'shirt
Big shout to the sponsors who supported this event....
JN/Epic/Blade/Axis/Blankforce/Flexifoil/Mystic/Star
Finally, a huge huge thank you to all that came along, got involved, helped out and made The Blast Frozen Jam the success that it truly was, especially Ade for pumping SO many kites up over the w/end.